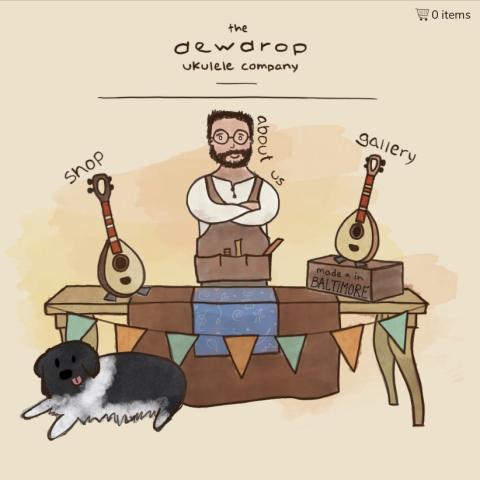 Dewdrop Ukuleles Case Study
Four Hour Day is a music school and cozy concert venue in Baltimore City. Opened in 2015, it serves as a musical workspace for the local community and Baltimore at large. Tyler St. Clare, who owns the shop with his father, Gabe, has developed a wonderful way of making ukuleles by utilizing an interesting selection of sustainably-harvested and native woods, with saddles and bridges that use offcuts and reclaimed pieces.
His web project was multi-faceted. He needed a site to create awareness explaining his eco-friendly approach to ukulele design. He also needed a secure platform where he could sell ready-made and custom-built ukuleles. He already had clarity regarding the site's design aesthetic, wanting to exemplify the craftsmanship of handmade wooden instrument manufacturing. Our job was to craft his vision into a well-structured and modern responsive website that would scale organically as his business grew.
I remind all clients that great websites are created before the first line of code is written! First, we had to gather all the content, product variations, design ideas and technical specifications to aid in the creation of user stories and page wireframes. The website needed to look great, work smoothly, and securely allow the client to access a simple yet powerful administration interface. They needed to be able to add new articles and manage their shopfront without calling a web developer!
Tyler had some great design ideas. We worked closely with his sketches to turn his ideas into web pages. His hand-drawn images of his ukuleles were perfect for the shop front. Even though Dewdrop sells just one type of ukulele, his custom-build process allows customers to choose a selection of woods, inlays and neck details. This turns one product into over 6,000 different product variations, with each variation having to have its own image, description and price.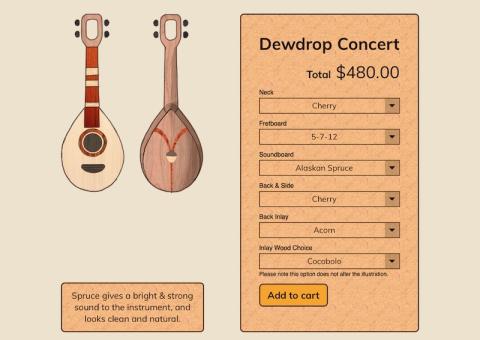 Once we had sketched out all the wireframes, it became apparent that his site needed a CMS solution with a modern e-commerce facility. The shop architecture was perfect for a custom implementation of Drupal 9's Commerce module. It could handle the many custom product variations, allow clients to browse or build their ideal ukulele, process purchases through a range of providers and it would scale wonderfully in the future. Also, unlike many other solutions, it is completely customizable, and the module's developers don't charge a monthly fee.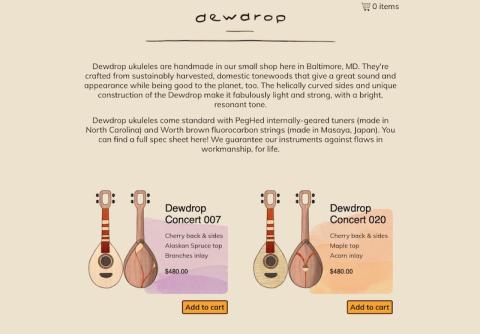 Once Dewdrop's new site was completed, we thoroughly tested all the custom code. Being built using solid OOP design and employing Drupal 9's modern framework, automated testing is a breeze (ask your web developer if they code unit tests – we doubt it!). It also makes future specification updates easier.
It was great working with a local client to turn his vision into a superb, modern and user-friendly website! You can see Dewdrop Ukuleles here.
Please call or email Pip Coders if your business needs a new website. With our years of international experience, we are consistently ranked in the top three SMB / SME website developers in Maryland. We deliver international quality at local prices!