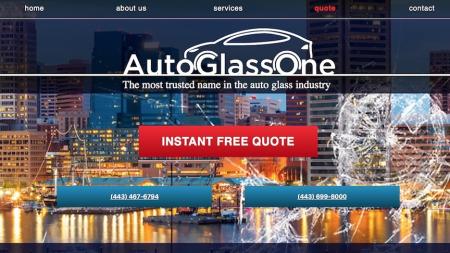 Building website for Baltimore businesses
Firstly, I just want to say it was a pleasure working with Auto Glass One on designing their website http://www.autoglassone.com . The folks that run Auto Glass One were the epitome of great clients. They understood what they wanted but were also open to design and development suggestions. As their name would suggest they repair and replace auto glass. I know about their professional service because on our first website consult they fixed a chip in my windscreen! It was a quick, clean, seamless repair.
Historically we have worked for international clients, especially investors, but now we want to focus on small to medium sized Maryland businesses. It was so refreshing not to have to worry about different time zones for meetings and being able to drive to web development consults in half an hour instead of a twelve-hour flight.
We approached their website project in the same manner we would organize a large international project. There might be a few less pages to develop but our mythology works. Our attention to detail is not based on the size of a project. All clients large and small require our upmost attention and service.
Their requirements were similar to most of our resent work. They needed a website that looked great and worked flawlessly on multiple devices. Their site had to accommodate customers using large monitors to the smallest phones. Smart-phones were especially important since most people damage their car windows while on the move.
So initially we sketched out a requirement list of functionality. Their site had to work on multiple devices. They needed prominent calls to action. Customers needed a simple way to convey their inquiry, which was dependent upon their car make and model. Most importantly, we focused on what they really needed from their website and streamlined the development process.
Our role, especially when dealing with a client's first website is to push them to create less pages not more! Of course, web agencies charge depending on the amount of worked done so they have an incentive to inflate the project. At Pipcoders we work in the reverse. It is better to build a solid, great looking website that delivers on a client's direct needs. Creating non-core pages complicated the user experience, while reducing the website's return on investment. ROI should be the focus of any business website.