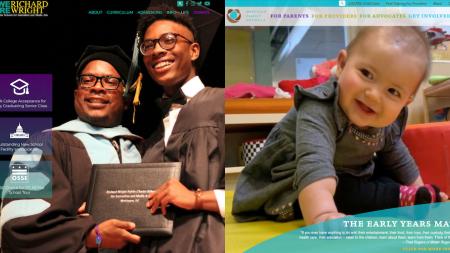 How to Choose a Website Designer – The First 5 Questions to Ask
Your website will probably be a client's first introduction to your business or nonprofit. Therefore, it is highly consequential to find the right website developer for your web project. Not only will they be working closely with you on the initial project, they probably will provide support with a longer-term service agreement. It is vital to have an expert on your website ready to help. They will be able to assist with website training for employees and keep your site's code up to date and secure.
The first step is to arrange a meeting. As with interviewing a prospective employee, the more you can define your requirements, the easier it is to find the best website development company for your particular project. These requirements can be easily measured, such as whether the company has successfully completed similar projects or they can provide positive testimonials. There are also 'soft' requirements, such as perceived professionalism, friendliness, and company culture.
Question 1: How do you approach website usability?
Every website company should have an immediate answer to this question. The answer will separate professional website development companies from newbies that can only customize a template.
Is your company or nonprofit identical to all others, or does it stand out from the competition? The website development company you choose must understand your business and, even more importantly, understand your clients and customers. If the goal of your new website is to connect, then truly understanding the requirements of your customers must be all-consuming.
A competent web designer will focus on your customers and clients, teasing out as much information as possible. At Pip Coders, we prioritize understanding your business, creating client stories for every type of user that will interact with your new site.
Question 2: Have you examples of similar projects that you have successfully completed?
Unfortunately, like nearly all businesses, there are website developers who overstate their ability. You want your chosen website development company to go over and above, not to underdeliver. The easiest way to answer this question is to check out their previous work.
It is not whether they have built sites for a similar company, but rather have built sites with similar functionality. Do you require a login facility where trusted employees can add new content or a media section that automatically imports your Instagram posts? Have they experienced building out that type of functionality? There are plenty of web designers that populate a template. If you want your website to do something more than display text and images, you need a web design company that can write code. At Pip Coders, we have designers, coders, and content creators.
Question 3: Do your previous clients enjoy working with you? Can you provide recent testimonials?
How can you trust a new company with your critical website project? Are they professional? Have they a good reputation? The easiest way to answer this question is to read their recent testimonials. The best web development companies actively solicit reviews from their clients. If they have built a fantastic website, the client will undoubtedly write a positive review. Check for completed websites without testimonials - there omission may not be an accident!
Question 4: Is my website future-proof? How easy is it to add new content or update the design?
Website future-proofing can be challenging for a non-technical client to ascertain. It is an important question, and all reputable website development companies should have a decent, non-technical answer. At Pip Coders, we separate website code from design and design from content. If the site requires a fresh look after several years, you don't need to update the content or the code. Also, it is important to check that the development company uses the latest, stable versions of code libraries, frameworks, and stacks. It is practically impossible to keep a website secure if the code isn't updated regularly.
Question 5: How can we measure the success of our website project?
A reputable website developer should have a decent, non-technical answer. They should be able to explain terms like unique visits, bounce rates, time spent on site, unique page views, inbound links, search engine rankings, optimization, and conversion rates. Dive deeper if their answer is too technical. Have them explain website jargon and geeky buzzwords! If they can't explain it, they don't understand it!
The bottom line is that you should feel 100% happy with a website development company before you sign a contract. You need to trust their ability, their professionalism, and their word.